---
 Greek Women's Society of S.A. O "Taxiarchis" Inc.     
Σύλλογος Ελληνίδων Κυριών και Δεσποινίδων Νότιας Αυστραλίας " Ο Ταξιάρχης"      
---
Welcome
Serving our Community since 1937
Welcome to the website of one of the oldest migrant women's organizations in South Australia.
We hope that this website will provide a summary of our historic Society's multidimensional work and its contribution to our society as well as information about our current activities.

Νews and Αnnouncements
---
2017
---
Notice of Annual General Meeting 2017
---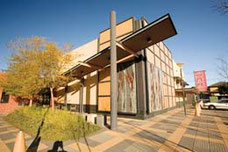 The Greek Women's Society of S.A. "Taxiarchis" Inc.    will conduct its Αnnual General Meeting on Sunday 23rd of July 2017
The AGM will be held at the  "Greek Women´s Centre" , Goodwood Centre , 32-34 Rosa St Goodwood 2 .30pm -  5.00 pm. 
Agenda for the meeting will be as follows:
reading and approval of minutes AGM 2016
Business arising from minutes
Correspondence
Financial Report
Elections of new electoral committee
General Business  
---
Afternoon Tea Fundraiser 25/6/2017
---
The Greek Women's Society of S.A  O "Taxiarchis".Inc. Invites you to an  Afternoon Tea in support of GOCSA Dance Academy
Sunday 25th of June, 2017.   2.00 p.m. to 5.00 p.m. at
Goodwood Community Centre , 32 Rosa Street, Goodwood
TICKETS   $20.00
 For tickets contact:
Roula Soumas    Tel: 8272 3558  
Hellas Lucas       Tel: 0407617967 
Georgia Psaltis   Tel 833 64 595
                                            Thr Programme includes :
    Performance of Greek Dances by The Academy  
            Showcasing of Traditional Costumes
                    Home- made Sweets, Tea & Coffee  
---
Mother's Day Lunch 10th May 2017
---
---
Annual Picnic on 27/2/2019 "Clean Monday"
---
On the 27th of February which was " Clean Monday"  or Kathari Deftera approximately members and friends of the Greek Women's Organization gathered on the foreshore of Glenelg in front of the Stamford Hotel for a picnic, fun and games.. read  more
---
Greek Women's Centre opens for 2017
---
 After the  Christmas break the Greek Women's Centre resumed  its activities for 2017  on February 14th 2017 at 32 Rosa Street Goodwood.
 Members and friends gathered for the 1st session of the year.
The President cut the traditional New Year's cake the Vasilopita. A red heart shaped cake to celebrate Valentine's Day was also served with the other refreshments. This year the Greek Women's Society will celebrate its 80th anniversary. (established in 1937)   
The Center operates every Tuesday 
 Hours
 9.30 am - 10.30 am             (Exercise Class)
10.30 am - 12.00 noon         (Coffee and Bingo)
---

---
Greek Women´s Centre
email us at
32-34 Rosa St Goodwood, SA 5034

Hours:
Tues 9.30 am - 10.30 am (Exercise Class)
10.30 am - 12.00 noon (Coffee and Bingo)

Access:
Wheelchair access, Disability toilets, Disability parking
---